Alright so this little update  will be spanning about two weeks again.
Theres not a lot of Interesting things to document haha, just a lot of work and stress.
The first week started off with me finishing of and finalizing the work for my " Deutsch im Museum " Project ( Seen under the Project tab). Additionally I was also working on a new Project which will probably start Mid-January, more of that Project coming in the project tab later so watch out!. Beside that I have still been doing some work in School of course. I Have a small reading club with the 5th or 6th graders on Monday or tuesday. Its not very set into stone yet because we have to tell them each week in school like : " Yo, yall are having a small book club in the 8th Period with Andrej" so i will have to better my efforts there so they know it's a regular thing. For the book club we ussualy use small children magazines  but since we don't have 15 copies for each child , ive decided to take the matter into my own hands. Ill make a small A4 Page with a simple text and a few visualisations so that they also have a small picture as a reference with a small additonal slip of paper on which 3 or so VERY easy questions are printed. My first Edition of that was  Text about sea turtes seen here ( the future worksheets and class material will be in another tab under Projects 😉 ) :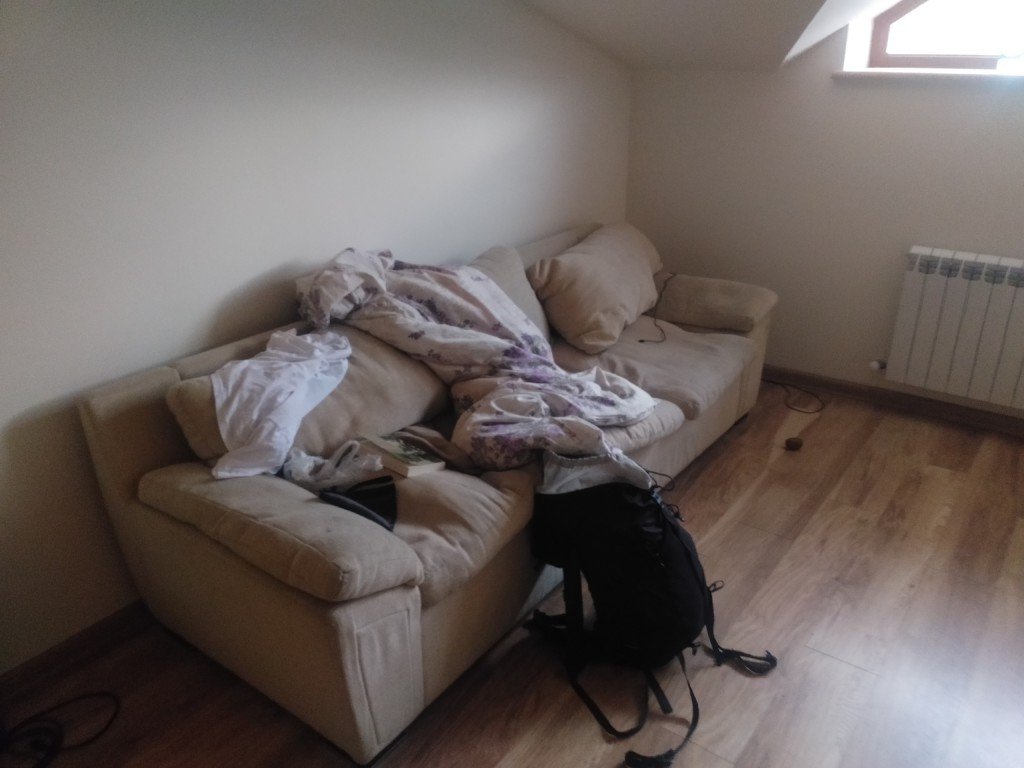 (This is where i sleep in Yerevan by the way, lovely room isnt it 😉  )
What I also have done is , started a long-term school project which deals with processing the Book " Emil  und die Detektive " with a small handful of good and interested students so I can challenge them a bit more. More to that under the "Projects" tab haha.
Now, on Wednesday I returned to Yerevan for the " Deutsch im Museum " project ( under the "Projects" tab) but there was still an other matter which needed my attention. I needed to get the extended stay permit For Armenia since I would be here longer that 180 days at a time probably next year . So what I did after arriving in the outskirts of Yerevan was meet up with a Worker at the German embassy who was tasked with official translation our Passports, and thus I had to meet up with him to give him mine. While doing that I also killed another bird with the same stone and got the 3 Passport pictures which are required for the permit in a small shop around the corner. Those actions really exhausted me. I woke up early, walked 30 minutes to the meetup stop and then went to the Goethe-Centrum since no one of the other volunteers wouldnt be at the flat for another hour or so. At the Centrum I socialized a bit with the Lovely employees, they Even made me some Lunch which was very sweet and I layed in some of the bean bags for a while untill I had to leave to get to the Apartment. Once there I realized how exhausted I really was, I was shaking so I really just relaxed, ate and drank a lot of fluids to replenish my body.
( Then came the " Deutsch im museum " Project which I elaborated in the " Projects "tab)
On one of the next 5 days I had to go to a Medical Centre to get  Medical approval for the permit, so that was a bit of extra stress but it had to  be done. There I realized that I have lost 4 Kilo since my 68kg around May-ish so I decided to get that and maybe more back so I really started to eat a lot more. During lunch at another cantine close the Goethe centum I ate huge portions of food and I started to spend more money on snacks and small foodbreaks at home. I Feel like I'm definitely progressing towards my goal though so I will see how well I did once I arrive in BErlin in DEcember.
Continuing my " Deutsch im Museum" Project has come to and end and after settling all the financial matters I am back in chambarack. The journey here was nicer than usual though. At the bus station i take the marschroutka from, always has the old dude who offers a private taxi for much much higher prices that a marschroutka and the last few times he always was like : You want a private taxi? But this time we had an actual conversation in Armenian like : How are you , etc.. so that was great xD and additionally to that, I was sitting to this curious old  lady in the marschroutka so we we traded a few questions and interesting words, in russian of course haha. But those two events really did up my mood and make my day haha. Here I worked a bit on my blog, had another two lessons, one yesterday (thursday) and one more " Emil und die Detektive " lecture lesson today ( Friday) at around 3pm. Otherwise ill have to clean up my room and pack up my things since im leaving tomorrow already again. Oh and where you ask? I will first of all be bringing some children from Chambarck to Gyumri for the " Sayat Nova " Project and after that I have my catch my Train at 00:30 to Tbilisi for the start of the Seminar on Monday.This is where I will be putting a small break. I'll write more on sunday so I can recap the whole journey after ive actually had the experience.
Oh and what I forgot is that on saturday we had the reading out loud competition in the Geothe Centrum and my little desciples also appeared. Also though didnt win i still think they did absolutely well so i was really proud haha Below ia a picture with the organizers, judges and all the participants.
Alright, now since im in my little bed in Tblissi in the WG of the volunteers of Georgia , I can give you a slow and steady playback of the last tw days.
So the hard part of this week started on a cold saturday morning on the country side of Armenia. I woke up around 6:30 to be able to make myself a small warm cup of tea and a small breakfast before having to make a last check of my Items in my backpack. We were all set. I walked down the streets to the meeting point where the driver would pick me up with some of the students which I will bring over to gyumri. My breath was visible while I trotted down , occasionally being afraid for the dogs staring and barking at me furiously. At the meeting point we waited for 10 Minutes untill our driver arrived. While there was enough pace for all our bags there wasnt enough really for the children haha. Lucky me i guess for getting to sit in the front seat as the chaperone. What was really funny was that since the car windows were covered in Frost and ice, the plausible action would be scraping it completely off for the security of all sitting in the car but no, things are done in chambarack haha. He just rubbed out a patch of frost in front of the driver seat while the rest was still ice white and he drove us while looking through that hole for a good amount. Just a small thing which amused me haha. So we drove all the way to the Yerevan train station , got off and met up with Dana who was waiting there for all participants of the Sayat Nova Project. Soon after the smaller group from the ,in a previously written and mentioned post, Ayb school joined us and we boarded the train.
It was a pretty fun ride to be honest. I sat with th kids from chambarack we just had a conversation. We talked about many topics and they taught the words of colour in Armenian while we busted out UNO and played a few rounds. They also showed me some Armenian " gangster" music which was pretty amusing but yeah. Not even that bad to be honest. There was like an employee who would like give us dirty looks and always threaten us not to leave any crumbs or anything so that was funny to haha. But at the end I was still kinda bored and just wanted o get off he train so that was a relief in the end. We got out and BUM! the ice-cold air hit you, it was lovely at first but while the chaperones where greeting and welcoming each other and assigning each child a partner from the local school it became pretty freezing and we all happily started walking towards to school once all the organisational stuff was done and all the kids were gone.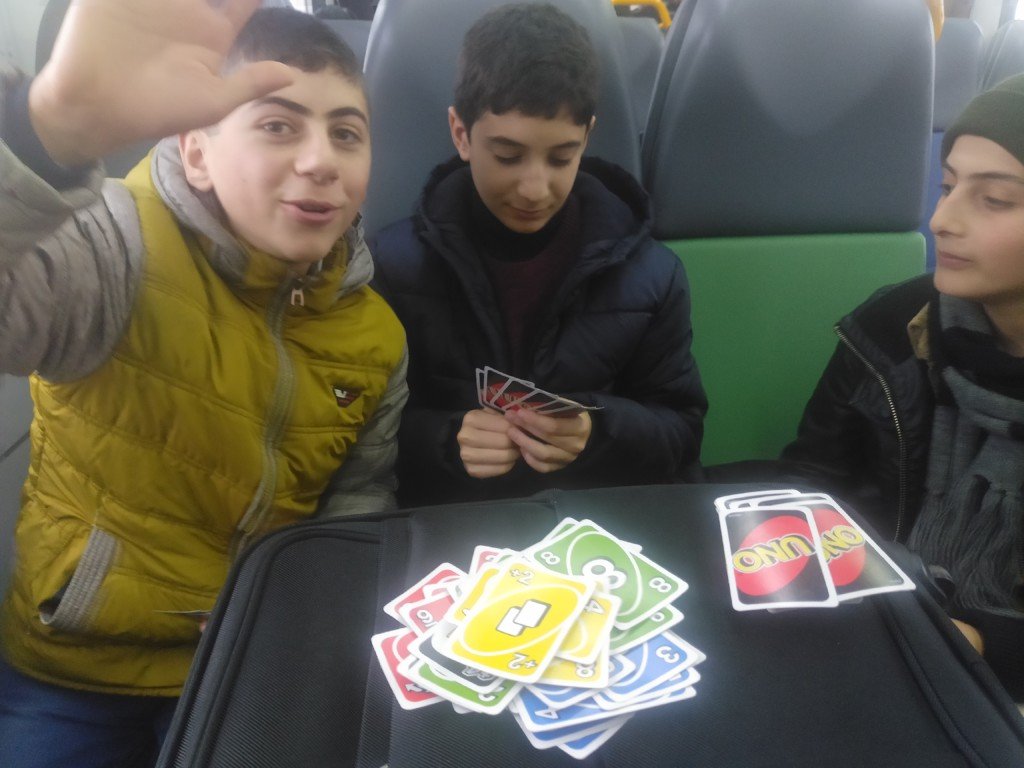 I basically hung around the whole day, just checking out the school and a little of the town. I helped Dana with her planned "german city hunt" around the town and with the FIlm shown in the evening. All in all a pretty normal day haha.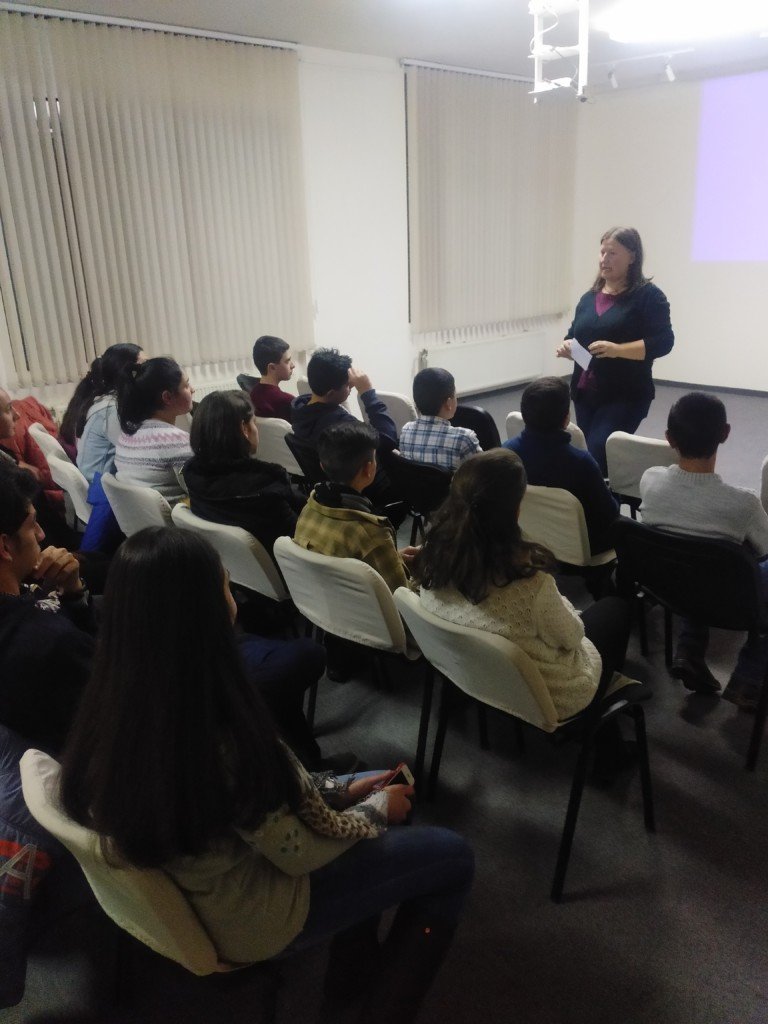 But at around 00:30 i had my night train to Tbilisi. So i lived my day up to that time to around 11:45 , where i left and walked to the train station, I didn't want to come later after all. And 10 minutes later the train showed up and i was a bit nervous. I showed the train chaperone my ticket and he showed me my wagon. I got on the train and passed the compartments before finding mine and i opened the door to it. Luckily it was empty. The train itself was very antique and was equipped very well.  In each compartment, 4 people could sleep. Two on each side below and two on each side on top. Luckily, through out my 8 hour ride. Here is a very bad picture of the place haha: 
No one joined so I happily had the place to my self. I got settled in. Took of my shoes. Took my passport and ticket out of my backpack before putting it under my bunk and even a few minutes later. A guy was nice enough to bring me bed covers and such. So the train got into rolling and there isn't much to say more. The only complaint i had been that the air was so hot and not really humid but like stuffy. When i tried to sleep i probably sweated all of my biological water out haha. I had like 3 Session of between 1 and 3 hours of sleep but i survived haha. At around hour 5 we stopped for the border control and the Armenian authorities checked me out and the Georgian ones checked me in. It was just like meh in the moment because i was just tired and exhausted. SO after a night of kinda restless sleeping and border control, I finally arrived in at Tbilisi main train station. From there i walked to the subway station near by and bought my self a subway card, which you could always recharge with money  ( a trip with the public transportation costs a 0.5 Lari) and went into the direction of the Goethe Insititut in Georgia. The Goethe institute there is like the headquarters for the Caucasus region and i had to deliver something from Dana to their administration so i dropped the package of there and got onto the subway again to finally go to the Apartment of the Volunteers in Tbilisi. Here also a small picture of the exterior of the building, the inner courtyard looks very good. They even have a small amphitheater thing haha ( sadly not visible on the picture):
The problem though was that , they had celebrated the birthday one one of them the night i arrived so i felt kinda bad for waking Julian who had only slept couple of hours. Nonetheless i ended up in their flat and had a really good morning cleaning their kitchen up and having a few good conversations and laughs with the Georgians. (really i did enjoy it haha, it sounds sarcastic as fuck). Me , Martin ( who was also staying there ) and Josh ( the guy whose birthday it was ) decided to spend the day by going into the city and went to visit the Georgian national gallery. There was a special exhibition about a specific kind of a italian church art and there where a hand full of really great paintings.
Some examples here :
After that we had a small walk through the main street up to a small hip restaurant since Josh really wanted us to taste the Siberian Pelmeni. We also ordered a surprisingly good tasting like green shake out of Tarragona. Mid-meal coincidentally the representative of the Kulturweit program who was supposed to visit us during the Seminar walked out and joined us , ordering the same. We talked a bit and got to know each other, but our little group decided to leave earlier since we've been in the city for a while and we just wanted to go home and sleep haha. And we luckily did , thanks to my efforts since he still wanted to get a DAMN coffee haha.
We came home and basically napped for a couple of hours before having a dinner with all the volunteers assembled at the apartment. After that we just basically went to sleep.
And that was basically the story of how i got to Georgia and how i spent my one day there before going off to the Seminar.